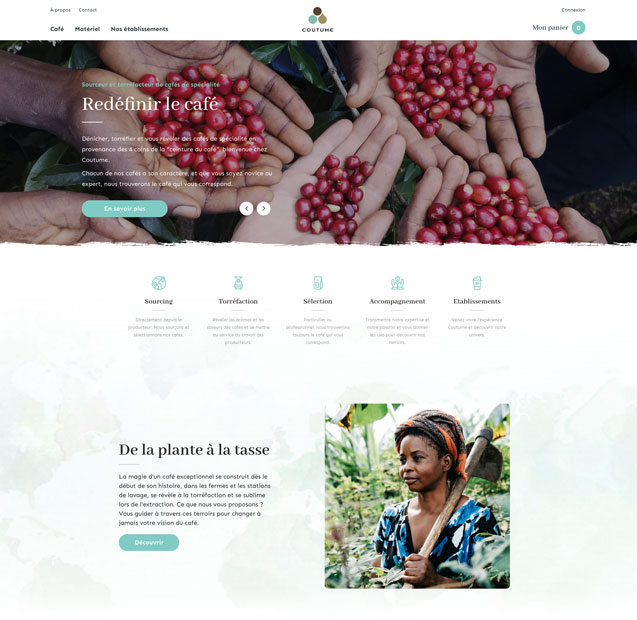 Coutume's website gets a new look!
On Tuesday, October 10th, the Coutume team unveiled its new website based on 3 main dimensions :
– Bringing more transparency on the stages of the specialty coffee value chain.
– Clarify the outlines of the Coutume approach on the sourcing, roasting and retail aspects.
– Propose its entire offer to individuals and very soon to professionals.
This new platform can be seen here: www.coutumecafe.com
Whether you are a beginner or experienced, don't hesitate to register to learn more about Coutume and its coffees and receive their best offers.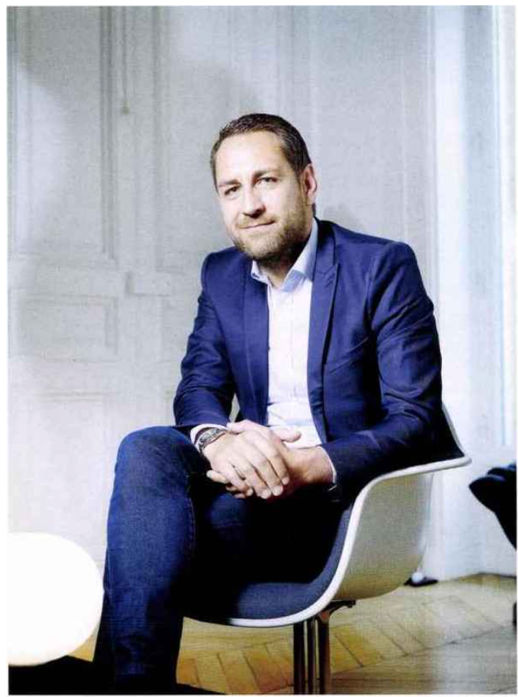 H8 Collection : Interview of Jean-Philippe Cartier by Forbes
Founder and CEO of his investment holding company H8 Invest, Jean-Philippe Cartier has been a self-taught entrepreneur for twenty-eight years.
At only 45 years of age, the ambitious entrepreneur is investing massively in various fields including the luxury hotel industry, where he enriches his collection every year.
Interview by Dominique Busso.
Click here to read the full article of Jean-Philippe Cartier's interview by Forbes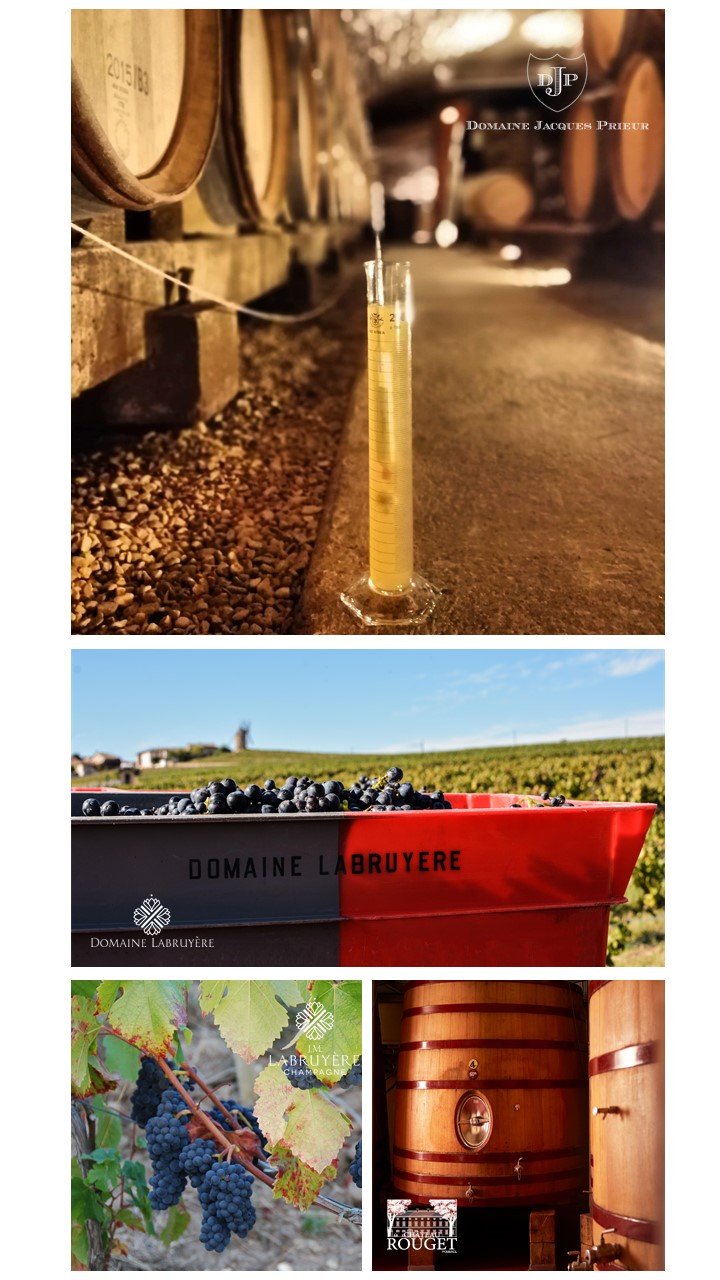 Exceptionally early 2020 harvest and outstanding quality
The last bunches of grapes have just been picked at Château Rouget, finishing the 2020 harvests at the Domaines Labruyère.
They began on August 19th in our Burgundy vineyards, breaking the record of earliness throughout the history of Domaine Jacques Prieur. The Pinots Noirs of our Côte de Beaune terroirs were the first to be harvested. The perfect aromatic ripeness of the berries, combined with the perfect acidities to get an exceptional vintage, compensated the very small quantities harvested. Fortunately, the Chardonnays have been a little more generous in quantity, though we've had to wait a little longer to get a promising balance in the juices.
The harvests were also very early in Moulin-à-Vent as they started on August 22nd. Picked under ideal conditions, sunny weather but no extreme heat, we were able to follow ripeness and cut at the perfect time. Our Gamay vineyards, although suffering from a very dry and too hot summer, had stored enough water throughout the spring to feed their berries until harvest. They gave us concentrated berries, with particularly developed aromas and acidity levels equivalent to those of the very great vintages of our estate.
In Verzenay, the harvest of Champagne J.M. Labruyère started on August 25th, three weeks earlier than in 2019. The summer drought left its mark but, fortunately, the deep, crayish soil has been able to restore the water reserves accumulated during a very rainy winter. The quality of the grapes, collected at perfect ripeness, was superb, and the juices were well-balanced, both in Chardonnay and Pinot Noir.
Château Rouget began the harvest at the same time that last year, i.e. September 17th, for the young vines of Merlot. The blue clay of the Plateau de Pomerol played its role as water regulator by releasing the very large amount of water that had fallen during the first part of spring. The impeccable sanitary condition of our berries, whether in Merlot, Cabernet Sauvignon or Cabernet Franc, allowed us to achieve a « haute-couture » harvest by making intraparcellar selections, vinified in wooden tanks or directly in barrels. The concentration in the berries and the balance of the first juices impressed us and gave us high expectations for this vintage in Rouget.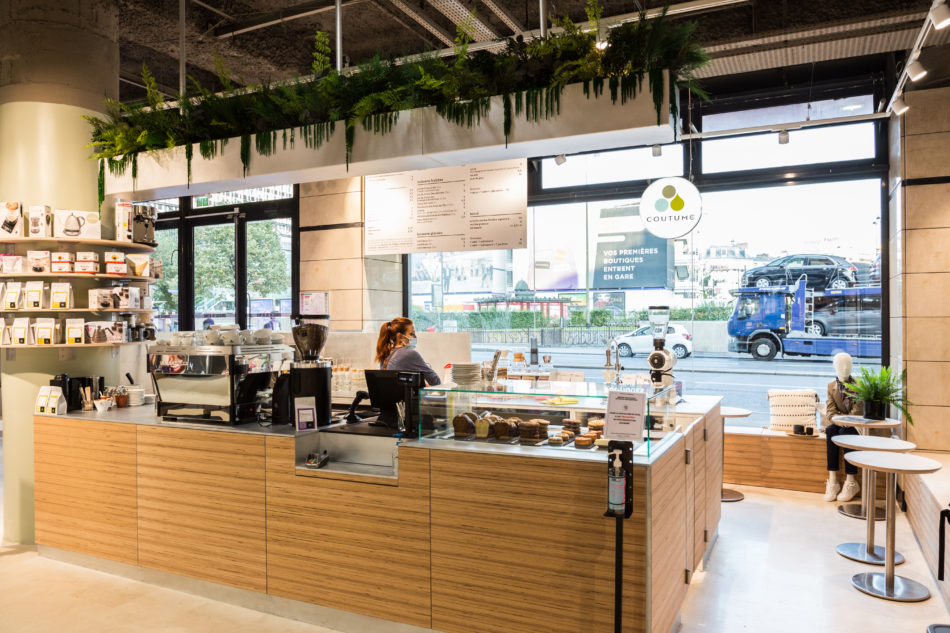 A brand new venue to discover Coutume specialty coffees
Located right by the newly opened Monoprix Montparnasse Concept Store entrance, is the new Coutume coffee shop.
A welcoming and nit space where beginners as well as connoisseurs can taste specialty coffees selected and roasted by Coutume. From Burundi, Indonesia or Colombia among others, allow yourself to be seduced by those coffees full of character, extracted with a lot of precision by a passionate and dedicated team. Their mission : make you discover their full aromatic potential.
The whole team is proud of this new retail family member based at the heart of an audacious brand that wants to offer a qualitative coffee experience within their new concept store, beautifully located in a dynamic neighborhood close to the Montparnasse Tower and the train station.
The collaboration with Monoprix is actually broader than that as best in class equipment (Eversys Cameo) as well as Coutume coffees will also be dispensed by other shop in shop part of the same project.
This may be the beginning of a bigger great collaboration between Coutume and Monoprix !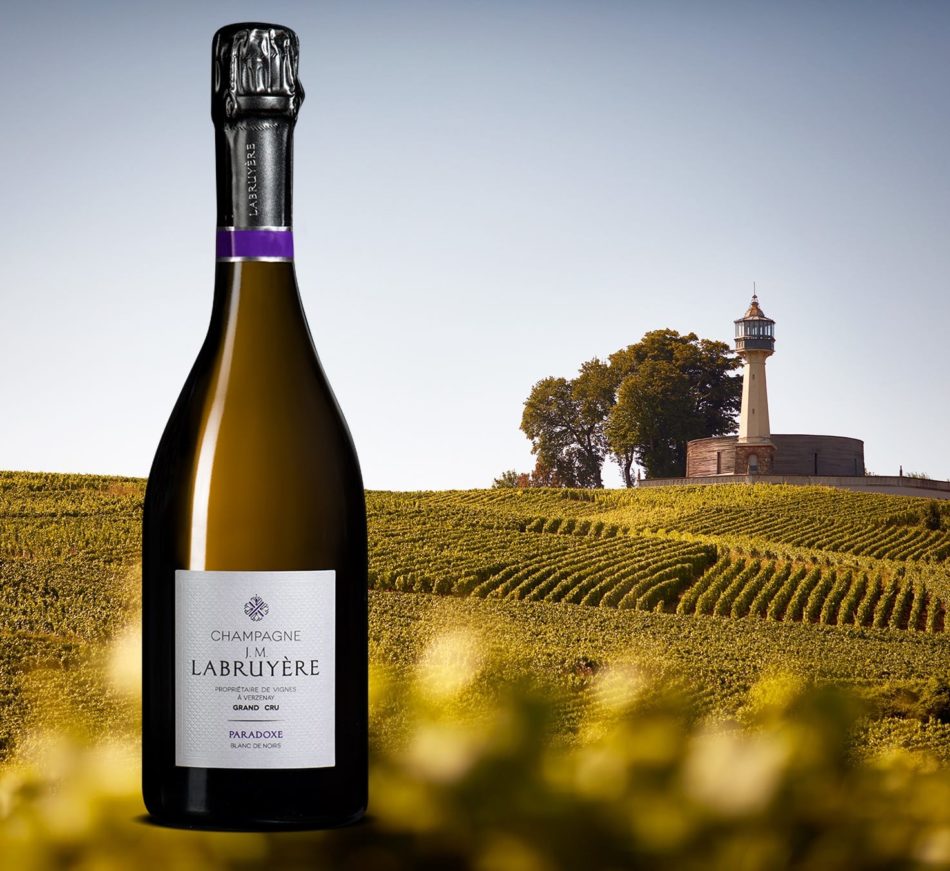 New Champagne: Paradoxe – an extra dry Blanc de Noirs
A new cuvée has recently completed the J.M. Labruyère range of champagnes: Paradoxe, an extra dry Blanc de Noirs. Made from 100% Verzenay Pinot Noir, this champagne embodies the entire terroir with its deep clay-limestone soil thanks to a low dosage and almost five years of maturation on the lees. The cuvée is full of the rich taste of red fruit, brought out by a fine tension in the palate that is characteristic of the year 2014, which this blanc de noirs predominantly consists of.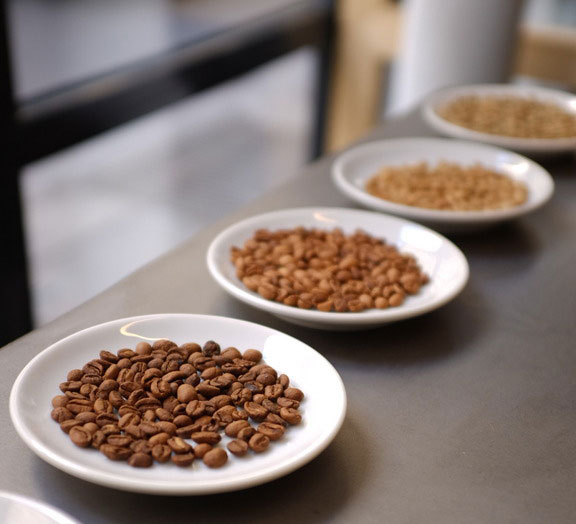 The Labruyère Group continues to diversify and has taken control of Maitre du Terroir (Coutume).
The Labruyère Group continues to diversify, taking control of Maitre du Terroir, a roasting house founded in 2010 that makes fine coffees and that is better known under the Coutume brand. This investment is part of the Labruyère Group's long-term strategy designed to create value in new business lines.
The Labruyère Group joined forces for this transaction with Tom Clark, founding partner of Maitre du Terroir, which has pioneered the transformation of France's coffee culture. The financial input of the Labruyère Group will help the company accelerate its growth in B2B – with the distribution of high-end coffee for the hospitality industry – and in B2C with premium coffee shops.
The two companies share a common DNA based on promoting the terroir, respect for the land, hospitality and high-end experiences.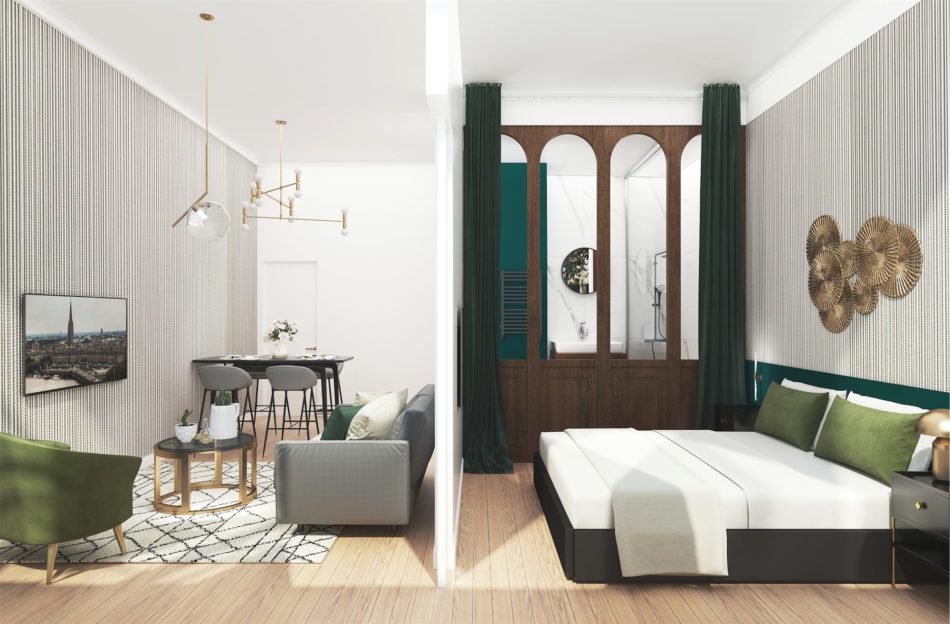 Maison Labruyère Bordeaux: opening scheduled for November 2020
Hospitality is one of the Labruyère Group's core values, as evidenced especially in the creation of Maisons Labruyère. From its initial address in a Parisian town house at 83, Rue du Bac in the seventh arrondissement, Maisons Labruyère will soon move to Bordeaux, to be hosted at 52, Rue d'Aviau in a Haussmanian building that runs alongside the Royal Gardens. The renovation work, which is nearing completion, has been designed to restore the cachet of this fine property while fitting it out to receive tourists. There will be nine top-end, concierge-serviced apartments, with some of the accommodation enjoying views over the park and even boasting a terrace.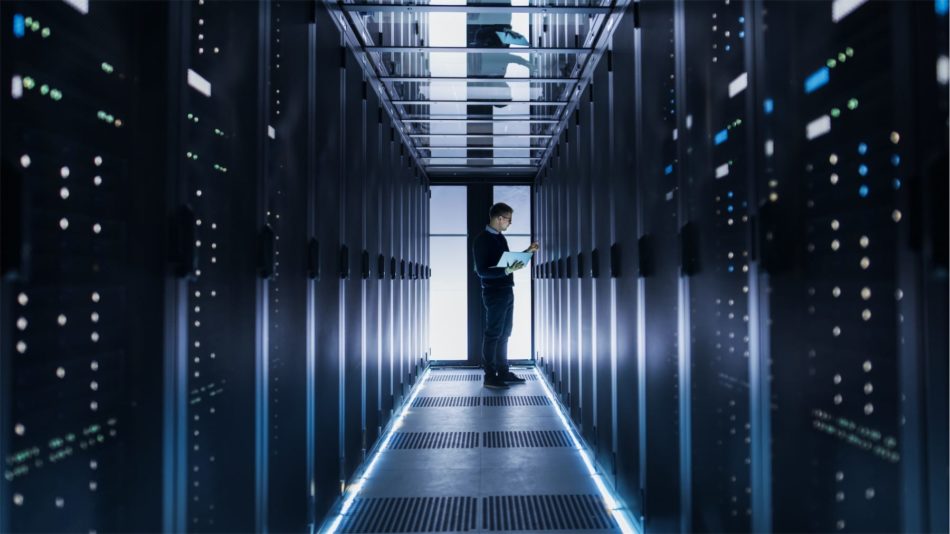 AddSecure signs a partnership with SMS Labruyère for the e-CMR solution
Thanks to the strategic partnership with SMS Labruyère, customers of AddSecure Smart Transport across Europe will benefit from a certified solution for electronic consignment notes (e-CMRs) that is secure and 100% digital.
AddSecure – one of Europe's leading providers of high-end solutions for securing communications and critical data – has today announced a partnership with the French company SMS Labruyère for a joint solution for electronic consignment notes (e-CMRs). The CMR, or consignment note, is a standardized document required by the European Union for all road transport. It covers the rights and obligations of all parties involved in shipping: the shipper, carrier and recipient.
This solution, which is based on the Easy-CMR product, is certified to comply with the e-CMR protocol (eIDAS). Thanks to this strategic partnership, AddSecure customers in Europe can now benefit from the ease and simplicity of a paperless, secure and 100% digital solution for managing their assignments.